Your Safety in the Workplace
Welcome to the AdventHealth Graduate Nurse Education Series.
Today's topic is: Your Safety in the Workplace.
As we continue this series of informational vignettes for the graduate nurse, a topic that will affect your sense of security is your safety in the workplace. Safety is important for the patient, their families and the team. As a new nurse, it is important to understand how your workplace addresses safety.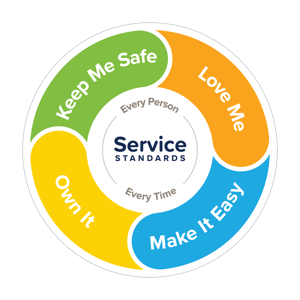 AdventHealth includes Safety at the highest level – Our Service Standards. At AdventHealth, we are guided by Service Standards that apply to all patients, family and team members. They are:
Love Me
Make it Easy
Own it
Keep Me Safe
This is how we integrate our values into our daily interactions and responsibilities. Today, we're going to focus on our Keep Me Safe service standard.
Patients and their families place their trust in us when they are at their most vulnerable. As you evaluate your future workplace, look for evidence of a commitment to safety. There are many aspects to safety in the workplace.
AdventHealth commits to Keeping all Safe by creating a culture of patient safety. We continuously work to align with the Center for Medicare and Medicaid Services guidelines for patient safety.
A few of these guidelines include fire safety, preventing patient infections, wrong-site surgery, falls and pressure injuries. These issues are so important that annual training and education is provided to nurses and others on the team.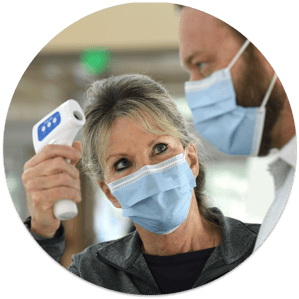 For nursing, a key patient safety area is medication administration. All patients are provided education prior to every medication and at discharge. Nurses are supported with easily accessible reference material, training on hazardous drugs and collaboration with pharmacy to eliminate medication errors.
AdventHealth also provides Security to help keep all safe with visitor screening, rounding on the physical environment and video surveillance. We are also committed to a continuous cycle of learning designed to discover ways to improve our delivery of care.
A large part of safety is being prepared in the event of a natural disaster. Over the last few years, AdventHealth has worked hard to maintain safety during Hurricanes, Fires, Tornados, Ebola and currently COVID-19. This has been achieved by ongoing cycles of planning and organizing with intense training and education. Our leaders commit resources to have the best in terms of people, supplies and equipment.
There is a continuous flow of communication using multiple modes – safety huddles, staff meetings, email, blogs, videos and signage. Feedback is always solicited. Nurses participate in decisions at AdventHealth. Patient care at AdventHealth is based on evidence and we follow CDC guidelines in providing safe personal protective equipment.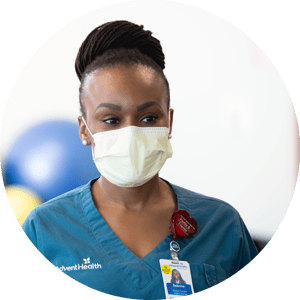 Workplace violence cannot be ignored in today's society. In providing a culture of safety and aligning with our mission and service standards, AdventHealth is committed to maintaining a safe work environment. Our teams provide continuous environmental assessments and audits, active shooter education, and violence de-escalation training.
In a culture of safety, team member preparation is a priority. AdventHealth extends the healing ministry of Christ to the team by providing multiple avenues for spiritual and emotional support. In fact, several of our team members are Spiritual Ambassadors.
We believe keeping you safe means caring for your whole person — Body, Mind and Spirit. That's why we provide an Employee Assistance Program, Exposure Hotline, Resilience Training and a Spiritual Care Hotline.
Our leaders are committed to helping their teams make a difference for our patients in a safe and supportive environment.
Welcome to the profession of nursing. We are up to any challenge.